michelle is grace. and she saved my day.
thank goodness for early afternoon rides on nice rocky trails. i mean, really --
what on earth would we do with out all that
!?!?!?
spoiled rotten, we are! i'm ok with that.
just as a note: the pony is
right
. the pony is
mean
. the pony is
nimble
. she really likes to
dance
, and dart, and play. ohhhhhh
goodness
. ;-) the pony REALLY likes to
climb
. the pony might be a humming bird, but i'm not sure. i have some adjusting to do on the down-hills, but i'm actually really excited for the re-experience of mastering the bike-body dance. i am so happy. i am indescribably happy.
CLICK on each pic... apparently they're all getting cut off 1/2 in the middle -- you're only seeing 1/2 of each pic here ;-( sorry kids.
we started low, and got up nice and high. the air was cleaner than usual, i think, because of the lack of commuters this week (due to the DNC that has engrossed our fine cow-town).
we then rode through some mystical trees with light splattering all over the place. we saw and heard some deer bolting through the trees.
we mastered some trickay moves.
my favorite pic of the evening:
we descended with grace and picked our way through some nice techy little sections.
Michelle nailing it!!:
jeny nailing it too!: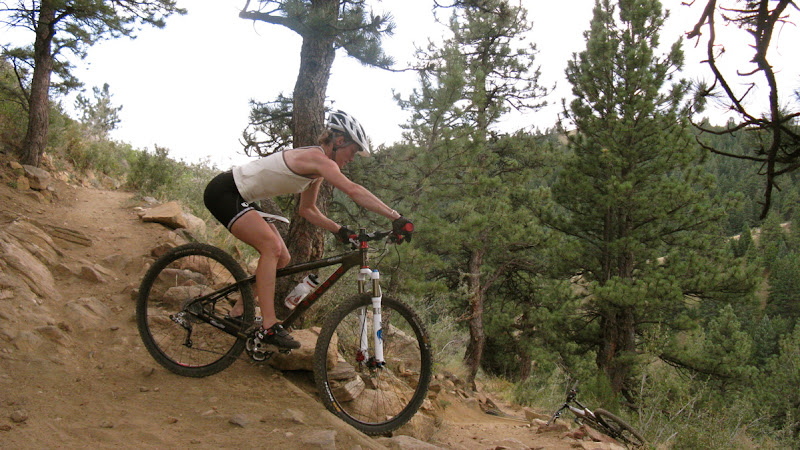 we rode up hill some more and ticked off each little rock garden as we came to it. booyahh!!!!
this was a fun little hit that has
never
been easier. i swear. such luck!!!
we railed the DH to the nice log pile where we played around and made sure it was had good and right ;-)
we finished so fast on the remaining choss field that is the apex trail...that there was seriously no time for pictures ;-)
and cruised our way back home through an insanely pleasant view-moment-light world.
we are damn lucky, we are ;-)
thank you, michelle!!!
jj